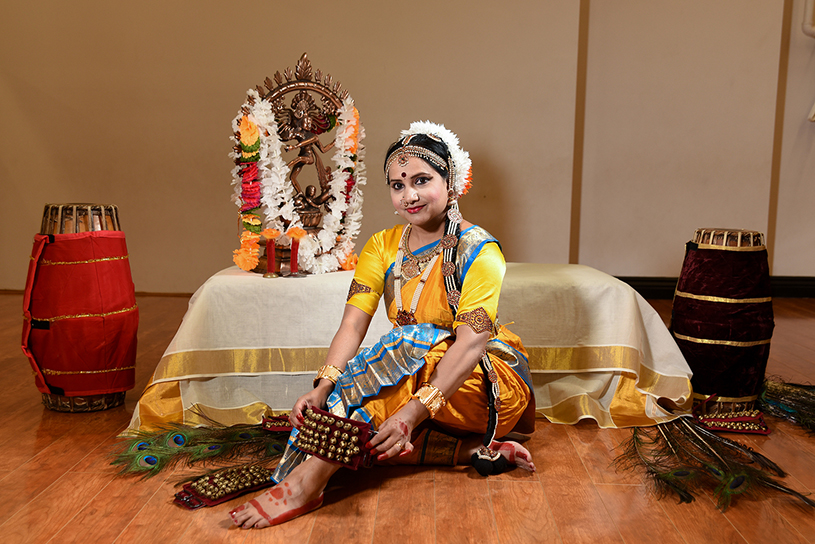 Get to Know:

Ranjana Warier


Indian Classical Dancer and Choreographer
By Rina Shah, The Arpan Group
The sound of ghunghroos ringing, feet stomping, and tabla beating have been deeply ingrained in Ranjana Warier's daily routine since she was six years old. Born in Thirunavaya, a small village situated on the northern bank of the Bharatappuzha (River Nila) in Kerala, Warier now resides in Ft. Lauderdale, Florida, where she spreads the love of dance amongst her students and the broader community. Founder of Rhythms School of Dance, Warier brings the beauty and history of Indian classical dance to life for students and dance enthusiasts in much the same way her own gurus did for her at a young age.
Warier grew up in an art-loving family, and she began taking Bharatanatyam lessons from her gurus Kalamandalam Devaki and Kalamandalam Indira at the age of six. When she was 10-years-old, she also began learning Mohiniyattam. Under the guidance of her gurus, Warier performed at several festivals, which served to enhance her present commitment to promote the Indian culture and art forms. Warier credits her gurus for strengthening her passion, and over the years, she has progressed from an avid student sitting in her teacher's lap to a teacher herself. "Because of the efforts my gurus, I feel committed to promoting priceless artistic treasures of India, through traditional and cross-cultural collaborations," reflects Warier.
Warier is currently working on hosting an "International Dance Day" in association with the International Dance Council (at UNESCO) to educate and engage the community on our art forms.
Learn more about Ranjana Warier below. For more information about Warier and her dance training center, visit http://www.erhythms.net.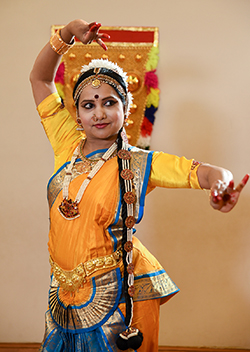 Tell us more about your journey and how you came to be where you are today.
Over the years, I transformed from an avid student to a dancer and then to a teacher with a mission to preserve it [dance] in its entire glory. This exploration for innovative ways to present Bharatanatyam has allowed me to stay connected to my heritage and yet reach a wide audience. I enjoy promoting cross-cultural understanding and collaboration in the community by showcasing Indian Classical dances through unique themes – bringing ancient mathematics textbook to life through dance, visualization of Afro-Caribbean poetry and Western fairy tales and integrated performance in Opera productions to mention a few.
Why Bharatanatyam? What drew you to this particular form of dance? What are some of your earliest memories of learning this art form?
This ancient art form allows me stay connected to my heritage and be relevant to the current age. Bharatanatyam is a very colorful symbolic representation of everything India is. It provides me with the most effective canvas to engage, educate, and entertain an audience.
My earliest memories of Bharatanatyam education are sitting in my teacher's lap and watching the older kids dance. I was a very reluctant student in the beginning. I am grateful for my teacher's patience and guidance that allowed me to eventually develop a strong passion for it.
Your day job is in the world of cyber security, which is seemingly so different from the world of dance. How does your day job influence your creative side and vice versa?
Art and dance are making computer science culturally relevant. Though seemingly different worlds, there is some overlap – in dance we do a lot more computation and pattern analysis than one might imagine; and in the cyber security field, the creative approach comes in handy often. I find an artistic workflow can be compared to a computer algorithm with built-in creativity. The exposure to these two worlds gives me a rare perception during the artistic decision process to connect with audience. I apply the same principles of analysis, creativity, structure and discipline in both of my professions.
In 2015, you were a choreographer for Florida Grand Opera's The Pearl Fishers. Fusing traditional Indian dance elements into an opera by a French composer must have been a unique challenge. How did you maintain the integrity of Indian dance while also staying true to the opera story line?
This certainly was a unique yet welcome challenge. Given the fact that Georges Bizet is a French composer, the music for this opera was significantly different than traditional Indian music. This difference was reflected in the choreography and artistic decisions. I kept the foundation of the choreography traditional while staying in alignment with the story and the culture that is represented in the Opera. The traditional Indian folk and classical moves were broken down as needed and blended with some contemporary transitions to support the music and delivery effectively. Opportunities like these force me to think outside the box and be creative.
Through performances and your school Rhythms School of Dance, you have had a unique opportunity to educate the general public, including non-South Asians about Indian classical dance. How receptive do you find audiences? Why do you believe it is important to understand Indian classical dance?
South Florida is a lot like India with regards to diversity. Indian classical dances are very diverse, colorful and a symbolic representation of everything that is India. My focus has been on preserving the tradition while continuing to find innovative presentation styles to better connect with audiences. There is no better engaging medium to educate the community on culture and history than dance. Learning more about Indian Classical dance allows one to learn more about India and on a bigger sense to understand the spirit of humanity. I find the audience is very receptive to new experiences.
Who do you consider to be a mentor and why?
My Guru Kalamandalam Devaki. Her guidance allowed me to develop a passion for this art form and made the learning process more enjoyable. She patiently answered every question and allowed me to explore. She was a pioneer in innovation and was not afraid to take risks with her choreography. Her approach impacted me so deeply that I strive to be a better teacher every day.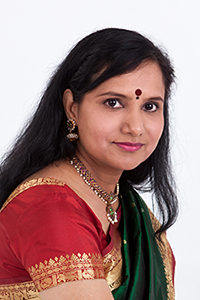 Many young Indian Americans choose to learn Bollywood and fusion dance over learning traditional dance such as Bharatanatyam and Kathak, finding these art forms to be rigid and tedious. How do you encourage students to continue their journey with classical dance?
In today's world of instant gratification, it is a struggle to keep the young generation interested in traditional art forms. The perceived complexity of classical dance and abstract nature of techniques coupled with traditional story lines hinders the enjoyment for most, especially for children. Though many youngsters learn it, very few pursue it seriously and the techniques and rigor are being lost often with attempts to modernize this art form.
My primary goal today is to inspire and empower younger dancers to practice and preserve Bharatanatyam (Indian classical dance) passionately. I feel the only way to keep them engaged is through systematic training to develop the knowledge; allowing them to explore ways to better connect with the art and the audience; and providing unique opportunities to learn and collaborate with the best in the industry.
What advice do you have for young Indian Americans who wish to pursue a career in music or the performing arts?
My advice is to make an effort to understand our heritage and take time to understand the symbolism and significance of everything they learn. Don't be afraid to take risks and to make your own path. Art has the power to engage, educate, and entertain the dancer and audience.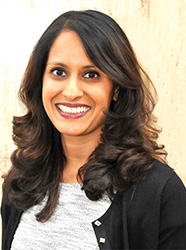 About the Author
Rina Shah is the CEO and founder of The Arpan Group, a boutique ad agency and public relations firm that specializes in capturing untouched ethnic markets. From press releases and media kits to marketing materials and by-line articles, The Arpan Group customizes solutions based on the client's needs. For more information, visit www.thearpangroup.com or call (703) 651-6670.
Posted on: 04-4-2019 by: Deshvidesh